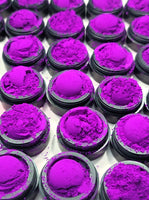 The Difference.
A lot of our products are hand packed in small batches. Each pot is measured out carefully, sealed and wiped with soap and water.
There may be some fall out of product from the threads around the rim during transit. But not to worry we pack our orders the way we like to receive them :)
Be the BEST Artist we know you can be!
Use our array of products for every day salon nail applications or competition nails. Your options are limitless with products created with the nail tech in mind. Each and every product is made to have multiple purposes which means less money that you spend on products overall.
*products used: #1 Liner Brush, Gem & Charm Gel, Stoner Tool, Small Silver Beads, Chalkboard Matte and Multigel in White.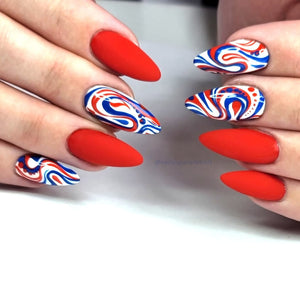 Simple yet effective.
Use your products over and over again and have very happy repeat clients.
*products used: Artist Brush, Dual Dotting Tool, #1 Liner Brush, Luxe Shine, Multigel Red, Multigel White, Multigel Red & Chalkboard Matte.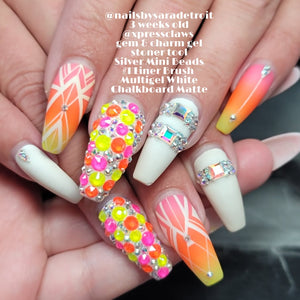 Longevity.
You can bet you will see the results over and over again with Xpress Claws products.
Luxe Shine; it's truly an awesome product!

Marcie Dawn - MI
I got your brushes right on time, it was amazing working with your brushes today; I'm in nail heaven.

Chyna P. - CA
The perfect Multigel & Brushes from Xpress Claws; I did a few nails with them AMAZING!!

Grace
Versatility
Our range of products are versatile; as shown here Luxe Shine triples as a chrome base, top and top gloss. Which also has such an amazing shine week after week.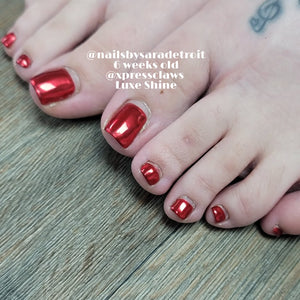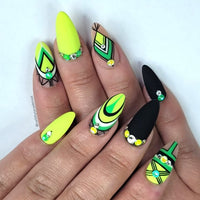 Endless Possibilities
The only thing that could limit you is is your imagination. Dream it - Paint it - Do it.