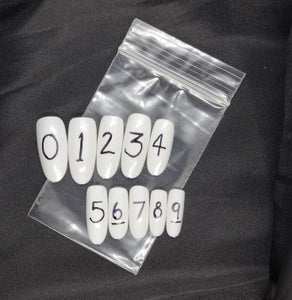 Don't want to measure your nails but want the best fit possible?
This kit comes with one of each size of your chosen shape/color. Please note different shapes/colors have different sizes and curvatures. This means you will need a new sizing kit for each size and base medium. Each tip will have a large number on it so you can see it clearly. You must size each hand, as each hand will differ slightly in sizes. 
Be sure each tip fits well (but not forced to fit) from cuticle to free edge, and sidewall to sidewall covering all areas of your natural nail plate (without a free edge).